Hi all,
for those that have confirmed attendance at the Sunday Food Event please see below for Jayne's 'brief' for what food to bring. Things will start at 2pm and finish around 5 or 6pm.
Black Lab's - Last Supper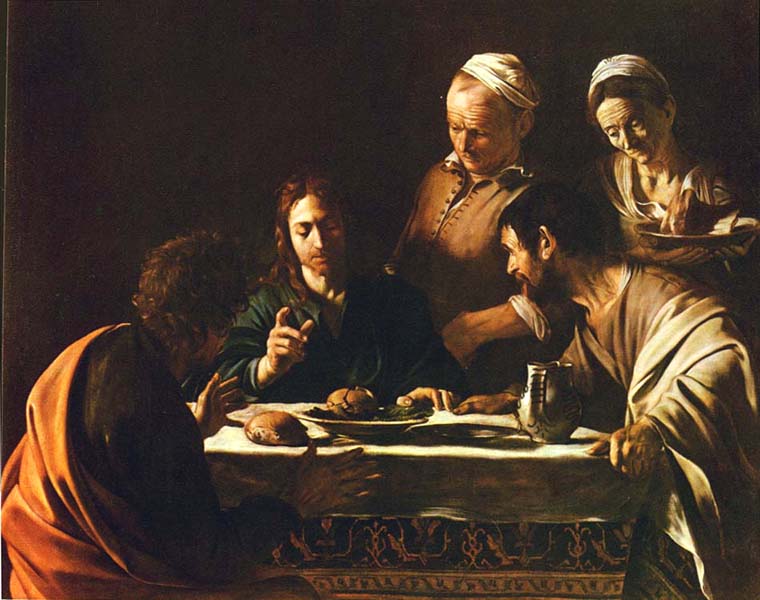 Caravaggio's Supper at Emmaus
Taking the multiple meanings in Jesus' final meal with his disciples (the feast that arguably sealed food's central role in religious art and symbolism), we could explore the multiple meanings of the Last Supper in a light-hearted way!
The Last Supper was a goodbye of course, but was also, symbolically, Christ offering himself so others could atone their sin. It was the first Eucharist – the bread and wine offered as atonement for sin, a central philosophy in Christian belief.
For Black Lab's last supper, you can atone for your artistic sins or guilt and look forward to the future! I would like you to make a dish of food as part of a large feast that helps to reflect on your experiences in Black Lab; positive, negative, guilty, indulgent, confused or pleasurable.
The lunch will be a one-course feast that we all share. It could be a salad, a pie, a roast, a dish of fruit, a loaf of bread, sandwiches, lasagna, pasta, stew, fish, anything that is easy to bring to the Lab. We will create a long table for the food and will all sit around together and eat!
Please bring with your food, a knife and fork, serving spoon, plate for you and a spare, bring a table decoration if you have one and use the Caravaggio painting for inspiration. The typical biblical meal would have been simple meats, fruits, bread and wine. I suggest that we too try to think about the ingredients in some way – the simplicity and honesty of the meal.
At the feast I would like you to explain the dish and how it represents you. I see three (holy trinity!) categories:
1. Dishes that represent your experience Black Lab
2. Dishes that represent your 'arts-sins'
3. Dishes that represents your artistic desire
How do we interpret this? As with most work, it's all in the meaning and the context, so I think we can easily find ways to represent ourselves in food.
If I were to bring something that represents me, it would be a meat and potato pie – a good hearty northern girl – who likes to have her fingers in many pies! If I represented my work it would be a sensory feast lots of textures, and smells and strong flavours – maybe freshly baked home made bread with rare beef, onions and mustard, representing my interest in sensory place making, or maybe a cornucopia of fruits – colourful and zingy – I love market places. My sin would be my food snobbery – so it would have to be a complicated dish where I could show off my good palate and skills – probably a risotto primavera, which requires a perfect balance of flavours, good stock and perfectly executed timings (sinful food is so good!). My creative desire is to be a food curator and planner– so today's feast represents this – thanks!
I would like you all to be able to explain your dish in this way, you can be playful with us – or seriously confess your deepest secret through the dark art of food….
In terms of a complete feast – I think we need to agree that some will bring meat dish, some a vegetarian and some will bring dessert….I would like the dishes to be revealed on the day– so don't tell us your dish but indicate if it is meat, vegetarian or sweet. Andy can keep a check ?? Finally make enough for about 10 people then if there are about 20 we can all have a taste, better to have too much than not enough is my dinner policy….
If you want recipes, tips or advice please call me. See you all on Sunday - Good luck!
(email Andy for number)